How To Thrive In the Next Economy
Drawing on a lifetime of travel in search of real-world alternatives that work, I describe how communities the world over are creating a replacement, leave-things-better economy from the ground up.
Each chapter is about creative ways to tackle timeless needs that matter: restoring the land, sharing water, making homes, journeying, growing food, designing clothes, journeying, and caring for each other. I write of soil restorers and river keepers; seed savers and de-pavers; cloud commuters and e-bike couriers; care farmers; food system curators; fibershed stewards; money designers and more.
Read together, these examples add up to a joyful new story about what an economy is actually for. In place of an obsession with stuff, money, and endless growth, the book describes social practices that do more with less, and cherish all-of-life, not just human life. Growth, in this new economy, means soils, biodiversity and watersheds getting healthier, and communities more resilient. Its core values are stewardship and health, in place of extraction and decay.
Wouldn't It Be Great If: The Dott Manual
Our Planet Tonight. ThingLink. Car-Free Mobility. Mapping Landscapes. Low-Carb Lane. Eco Design Challenge. Our New School. better Lives With Dementia. Urban Farming. Our Cyborg Future. Design projects that explored what life in a sustainable region could be like – and how design can help us get there. Published by Designs of the time (Dott 07), the UK's social innovation biennial; the author was its Commissioner.
In the Bubble:
Designing in a Complex World
We're filling up the world with technology and devices, but we've lost sight of an important question: What is this stuff for? What value does it add to our lives? In the Bubble is about a world based less on stuff, and more on people.
"John Thackara's brilliant book about quotidian design describes innovation driven by social fiction instead of science fiction." Paul Hawken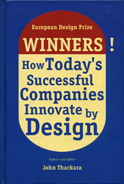 Winners! How Today's Successful Companies Innovate By Design
isbn 9780566079542
* 49 company case studies, in 32 sectors from 15 countries
• 55 checklists and charts about trends, ratios and statistics
• 162 books, websites and periodicals selected for your library
• 74 national and overall winners of the European Design Prize
'fascinating…best practice as the smartest way to beat the competition" Financial Times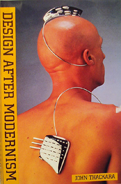 Design After Modernism:
Beyond the Object
(ed)
London, Thames and Hudson, 1988
Japanese edition, Tokyo, Kajima, 1992
With essays by Marshall Berman, Kenneth Frampton, Christopher Alexander,  Peter Fuller, Peter Dormer, Jean Baudrillard, John Chris Jones, Peter York and others
'fascinating…best practice as the smartest way to beat the competition" Financial Times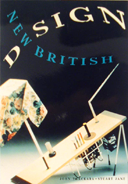 New British Design.
Co-edited with Stuart Jane.
London, Thames and Hudson, 1987
Published in a book for the first time are Ron Arad, Fred Baier, Judy Blame, Tom Dixon, James Dyson, Georgina von Etzdorf, John Galliano, Jasper Morrison, Paul Priestman, John Richmond, Seymour Powell, Daniel Weil and others.
Other Books
The New Geographies of Learning
 Amsterdam: University of Professional Education (HvA), 2003
Lost In Space: A Traveler's Tale
. Haarlem: De Grafische Haarlem, 1994


DoP Rom
 Doors of Perception CDRom; co-editor) Amsterdam: Mediamatic, 1994
Architects' Data: Handbook of Building Types
 Ernst Neufert, (ed John Thackara,Vincent Jones) London Wiley, 1992
T-Zone
 Co-edited with Riiche Miyake. Brussels: Europalia, in association with Architectural Association, 1991
Leading Edge (ed) 
Tokyo, Axis 1990 

Image and Object: Nouveau Design de Londres. 
Paris, Centre Pompidou, 1990